Welcome!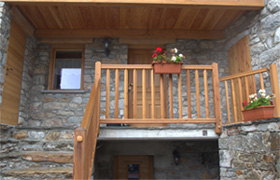 Casa Girod was built in 1895 and it belongs to Girod family since generations. It is situated in Fontainemore, Frazione Planaz n°5, in the Gressoney Valley at the foot of the biggest natural park of Aosta Valley: the Mont Mars.
Our house is an ideal starting point for different kinds of mountain excursions to the Mont Rose glacier (with a guide) or to the Alta Via n°1, to make you feel like you are part of the famous endurance trail "Tor de Géants". During the summer you can sunbathe or walk to the several Alpin lakes and in winter you can ski or snowshoeing in Courmarial (7km) or Gressoney (11km). Casa Girod is an intermediate point for long journeys, the perfect place to relax, far from the road traffic, but not far from services and easy to be reached by motorbike, car, and from Turin and Milan airports.
… Simply, a welcoming place where it is possible to admire the typical architecture and the rural furniture, the colors and the beauty of the landscape and enjoying the sounds of nature. You can also visit our farm where you can taste the traditionally diary products and maybe to be present at a calf's birth! And last but not least, you can have a relaxing sauna after a long day of ski!
… Our dream comes true : welcoming our guests and let them discover our Country, culture, traditions in the house where we were born and where we spent unforgettable moments.
We are waiting for you,
Alfredo Girod and his family